A ductless mini split system, includes one outdoor unit and one indoor unit, connected by refrigerant tubing and electrical wiring. The indoor unit is often wall-mounted, and delivers heated or cooled air directly into the living space with no ductwork needed.
Ductless, mini split-system air-conditioners, or heating systems, have a number of different uses that can be suited for residential, commercial, or institutional applications. TBros excels at mini split replacements and installations. We have the experienced technicians to ensure your ductless mini split is installed effectively and operating the way that it should.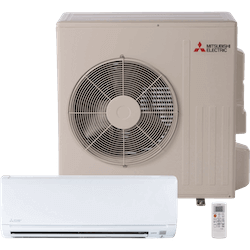 Heat Pumps
Heat pumps and mini splits are ductless heating systems. We install, repair and replace all heat pump systems.
Does your mini split need to be replaced?
Following are signs that the your ductless mini split needs to be replaced and installed with a new one.