Where Boston turns to stay safe and warm for over 100 years.
Trethewey Brothers is a fourth generation family business which has specialized in professional plumbing and heating services to the Eastern Massachusetts area since 1902. We remain dedicated to offering our customers only the finest in quality workmanship, prompt, courteous service and expert design and installation.
Our highly trained personnel constantly explore new methods to give our customers greater comfort, better energy efficiency and the highest quality remodeling and heating installations. Our service and sales setup is such that we can handle jobs as small as a dripping faucet all the way up to a full remodeling project.
"Andrew and his assistant just finished a fabulous job repairing the malfunctioning water pump. Thank you so much for helping us fix our heating system problem, especially on a below freezing Saturday when many of your customers are experiencing similar problems. It is great working with TBros!!!"
"I have been a long time customer for Trethewey Brothers. They have replaced steam boilers and hot water systems in two multi-family buildings that we own (including the one we live in) and made several service calls over the past twelve years. My experience has been that their pricing is very competitive and their service is top notch."
"Andrew, the service tech Tbros sent, quickly diagnosed issue with our boilers and fixed it; in contrast with another firm where had much more mixed experience. Invited them back to service; got excellent and knowledgeable service, no attempt to oversell. In short exactly what want residential service experience to be."
"My water heater blew one day and I called tbros. They were extremely responsive and were at my house with a new heater within 30 minutes. The entire process took about 2 hours. The men that came were helpful and knowledgeable with all my questions."
"Very helpful, knowledgeable, and professional. I would use this company again."
We'll be in touch with you shortly.
Mitsubishi electric zoned comfort solutions. Perfect for keeping every family member happy.
Trethewey Brothers provides numerous plumbing, heating, cooling and home remodeling services, and has provided these services to the greater Boston community for over 100 years. When it comes to utilizing a unique heating and cooling system, we recommend Mitsubishi, as it has the capabilities to maintain specific temperatures dependent on the room. 
This is the perfect solution for keeping every family member happy. A Mitsubishi electric zone comfort solution has room by room temperature control, whisper-quiet operation, odor filtration, allergen filtration, and is 40% more efficient than central air. If you have any questions regarding this system, please do not hesitate to reach out.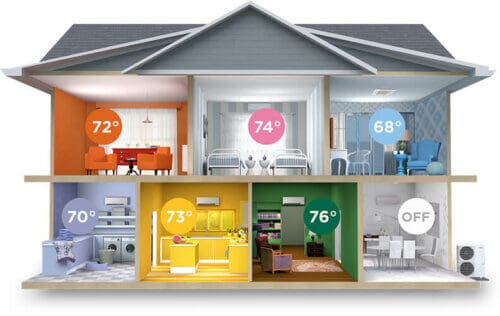 The home services you and your family need to stay comfortable.
When it comes to home services within the plumbing, heating, cooling and remodeling space, there is no one better than the Trethewey Brothers. Don't just take our word for it, view the testimonials of our many happy clients. Following is a list of all of the services that we are capable of providing to you. If there is something that you need assistance with, and it is not on this list, please do not hesitate to give us a call to talk about your specific use case. We look forward to working with you to keep you comfortable.
Articles related to your plumbing needs